bike locks
You can't be too careful while out there on the road (or, hell, even at home). There are too many scumbags just waiting to come across a motorcycle that isn't locked down or outfitted with some type of security system. Don't be their next victim—start protecting your bike now!
Fortunately, today's alarm systems are getting more sophisticated by the day, and you can utilize many different types of security measures to keep your property safe. Whether it's hands-free ignition systems, intelligent proximity and touch sensors, remote transmitter notifications, or even good old-fashioned bulletproof locks and chains—the right option is out there to help put your mind at ease.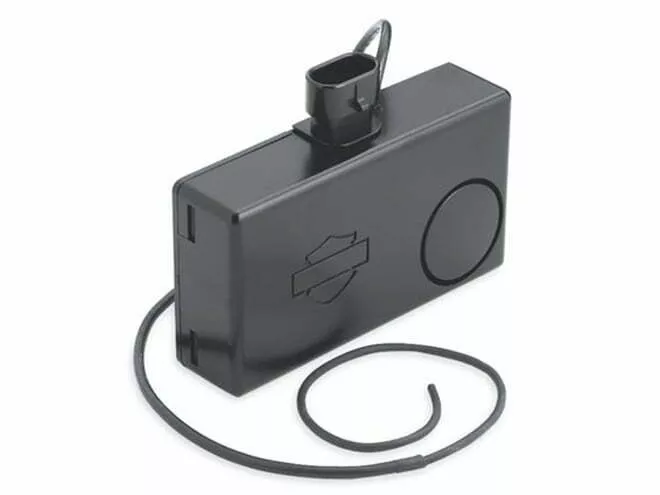 Building on H-D's factory security system, the Smart Siren II package delivers the functionality of a standard alarm with an enhanced sound chamber as well as the convenience of a pager transmitter that can warn you if someone's tampering with your rig up to a half mile away. You can get a full suite of security options with just one easy-to-install unit from Harley-Davidson. motorcycle gps tracker | cable lock | disc lock |
motorcycle alarm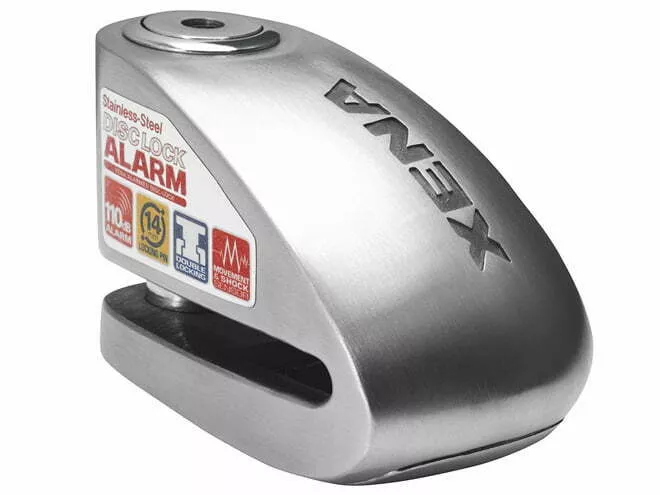 This newly redesigned lock alarm system from Xena now features a flared, attack-resistant body shape that straps to your bike's brake disc. The unit works double duty, as it's not only a lock, but an alarm with a piercing 110-decibel siren that will be sure to scare off any would-be bandits.
The system is self-arming (no on-off switch needed), and resets automatically to armed mode within 15 seconds if the attack stops. A sophisticated combination of shock and motion sensors help Xena's Ultra High Security Lock Alarm system deliver the best protection possible.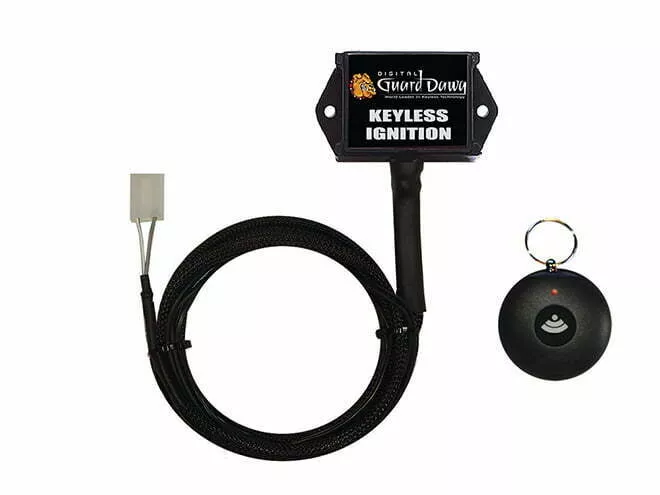 Fumbling for keys is annoying enough, especially if you've forgotten just which pants pocket you threw them in last night.
Digital Guard Dawg
 is looking to change all that with its new keyless ignition system.
This system not only provides the convenience of keyless ignition, it bumps up security measures by not allowing your bike to start unless it receives an authorization from the included digital "Dawg Tag"—an RFID proximity fob. As you approach your bike, the Tag communicates with the keyless ignition system, which then lets you fire it up. The system also provides a dual-point immobilization function that allows locking of both the ignition and fuel circuits for added security.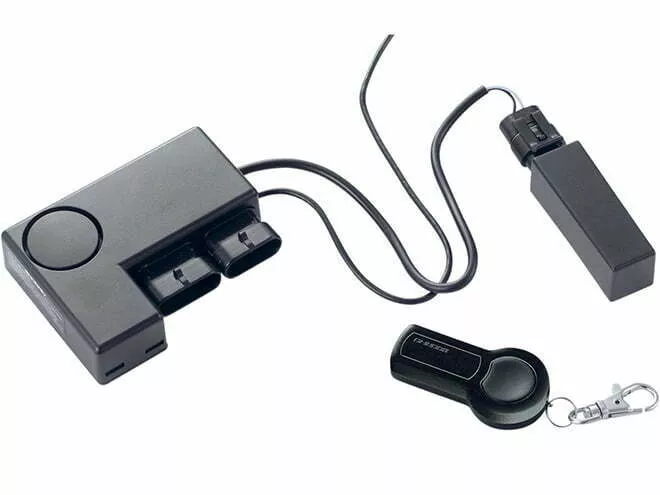 This system from Scorpio comes with all the bells and whistles you'd want from a premium alarm package, including shock, tilt, and ignition sensors, as well as hands-free operation.
The system can be customized to function on manual or automatic arming/disarming modes, and there are multiple add-ons such as a multi-stage perimeter sensor and electrical system locking, which protects against "hot wiring." If you're looking for an alarm that can grow with your changing security needs, this is the one for you.
lock chain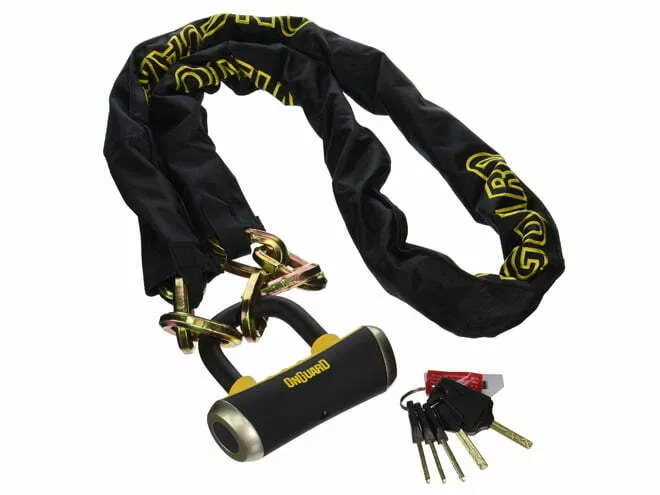 There's nothing wrong with the old-school lock-and-chain approach, especially when you consider the OnGuard Mastiff. The chain is comprised of 10mm titanium hexagonal links with a cinch-loop design that adds locking versatility to the mix.
The Boxer U-lock with X4P Quattro Bolt locking mechanism eliminates the weak points that burglars typically look for when attempting to pry or pick locks open. Use this chain alone, or add it to an electric alarm system that will cover your bike on all fronts.
Fans of the tried-and-true method of heavy-duty chains and lock will rejoice after getting a load of Kryptonite's New York Legend series hardware.
The 15mm chain links are constructed of 3T hardened steel for a level of security that's tough to beat. The New York padlock's 16mm MAX-Performance steel shackle and double dead-bolt locking mechanism have been been designed to withstand aggressive twist tactics of hopeful robbers. A reinforced, shrouded shell serves as a impenetrable fortress that defends against cut attacks. Weigh those factors together along with Kryptonite's $2,000 anti-theft protection program, and you'll soon understand that it means business with the security of your motorcycle.
alarm lock | ground anchor | security chain | motorcycle alarm | motorcycle gps tracker | motorcycle locks | lock chain | bike alarm |motorcycle anti theft | motorcycle alarm system | bike alarm.